Restaurant menu localization is a practice that will help you attract diners from diverse cultures and languages. It allows you to personalize your services and products for targeted customers. Localization is not limited to using culturally appropriate colours and images. Food items and their price play an important role when we talk about menu localization for restaurants. 
International fast-food chains, namely McDonald's and Domino's have taken over the Indian market. The ever-increasing love for fast food of Indian consumers has prompted other fast-food giants such as California premium burger chain to enter India in 2020. They aim to replicate the success of McDonald's in India, which is certainly difficult. 
Guess what their secret was? A perfect combination of standardization and fast food menu localization!
Localization v/s Standardization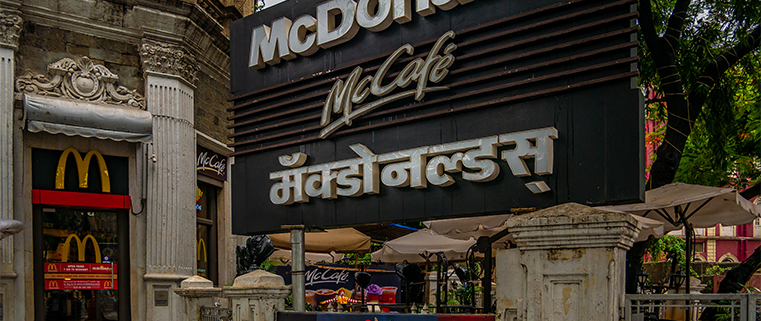 When McDonald's entered Indian market in 1996, there was no reference point. Almost 20 years later, the fast food chain has the critical first-mover advantage. They offer certain food products that are standard or identical regardless of the location. Some of them include Filet-O-Fish, Happy Meal, McChicken, McNuggets, and McFlurry.  These products are the face value of the popular fast-food chain. 
As a restaurant owner, you can utilize this strategy to establish economies of scale. However, standardization will not be enough especially if you own a multinational brand. You have to mix and match to devise a solid marketing strategy. This is why McDonald employs fast-food menu localization to win the heart of consumers worldwide. Your restaurant brand should be able to adapt according to the needs of local consumers. 
Why Localize?

Regardless of size, one of the crucial objectives of any business is to gain a competitive edge. Through menu localization for restaurants, your brand can achieve just that! Consumers love customized menus that activate their taste buds. Therefore, investing in a restaurant menu localization would be a great decision in the long run!
Particularly, the Indian taste palate is quite diverse. Every international brand including Domino's has adopted a fast-food menu localization after venturing into the Indian market. No multinational brand can afford to avoid menu localization in the age of globalization or else they risk losing their competitive edge. 
Tapping Virgin Markets
If your team has plans to expand into tier-2 and 3 cities in India, you should start with localizing your menu if you haven't already. There is a great opportunity for your brand as this is one area where big companies such as Domino's, McDonald's, and Pizza Hut have not reached yet. Their target customers are mostly in tier-1 cities which have already become saturated. 
Some of the other factors that will contribute to the growth of the restaurant business in smaller cities include:
Expansion of Quick Services Restaurants (QSRs)
Greater accessibility
Changing lifestyles such as increasing appetite for fast food
Growth in incomes of middle-class families
Rise in the number of working women
Increase in the number of nuclear families
Localized restaurant menus not only entice customers but also strengthen brand loyalty. However, the most decisive challenge in these untapped markets will be the rivalry with local food vendors.
Also Read: How to create an online ordering menu with food that travels well.
How Big Brands Are Doing It
Take a look at how popular food chains are leveraging menu localization for restaurants:
McDonald's: Leader of Localization
India is known for its huge consumer base and the largest youth population. McDonald's is a leader when we talk about wooing Indian customers. Their marketing strategy takes into account the preferences and tastes of local food lovers. For instance, beef is prohibited in many parts of India because of which they replaced it with chicken. Another great example is McDonald's Maharaja Mac which they sell as 'Big Mac' in other parts of the world. 

In addition, they gratify the majority vegetarian population of India by selling McVeggie which is vastly popular in the country. McDonald's also sells other food products such as McAloo Tikki, McCurry Pan, and Masala Grilled Veggie Burger as part of their restaurant menu localization strategy. They have solidified their position as the leading burger chain of India, with approximately 90% of the market share. 
Other Countries
McDonald's has religiously followed the restaurant menu localization strategy elsewhere in the world. For example, the brand has paired the fried chicken with spaghetti Bolognese, a popular variant in Indonesia. On the other hand, McDonald's porridge with chillies, and chicken strips are in high demand in Malaysia. 
Domino's Pizza Outlets

Even though their menu is not as localized as compared to McDonald's. They have made significant changes like introducing vegetarian pizzas in the Indian fast food market. Domino's non-vegetarian and vegetarian pizzas have gained substantial popularity in India over the years. The non-vegetarian pizzas include goat, lamb, fish, chicken, and pork but never beef. 
Role of Language and Price
When it comes to restaurant menu localization, food products are not the only thing to consider. India is a price-sensitive market and has quite affordable local street vendors that even McDonald's finds it difficult to compete with. This is why their reach is still limited in India. Hence, modifying your prices according to local culture and business environment is imperative for your restaurant brand. 
For this reason, McDonald's launched ice cream cones at Rs. 5 and Aloo Tikki burger at highly affordable prices in India not too long ago. However, there's still a lot more to explore as the quick-service restaurant market in India is still in its nascent stage. 
India has one of the largest English-speaking demographics in the world. That's why as a restaurant owner you may not need to necessarily translate your menu. However, if you are located in other parts of the world, it's best to localize your menu according to the regional language. 
Know how to Boost your Revenue with Restaurant Menu Pricing Tactics
Going Forward
In the era of globalization, restaurant menu localization is indispensable. In future, we will witness more brands localizing their food products to make inroads into local markets. India's QSR sector has adequate space for new brands to thrive and coexist. Owing to menu localization, people will be able to relate more instead of dismissing yet another international brand.