It has been nearly four and a half months since this pandemic led us all to be in home quarantine and we have been spending most of our time indoors, working from home & occupying ourselves with mundane chores.
It has been tough for all of us, mentally and emotionally.
But hey, we have something that will pique your interest & make you experience different worlds without moving from your couch.
We present to you a list of books that would definitely lighten up your mood and get your grey matter intrigued.
These are books that will take you to magical places & introduce you to new people. These will tell you facts & history that would fascinate you for months and will help you find answers for life and your business.
Check this out:
1. Like Water for Chocolate
by Laura Esquivel
Genre- Drama & romance
It is a story of a young girl named Tita who falls in love with Pedro, but she cannot marry him because of her family tradition. She struggles to pursue her true love. She uses her cooking skills to express her feelings in the novel. Each episode involves the preparation of intriguing recipes.
With the use of magic realism, the author Laura Esquivel has managed to write a beautiful classic love story. If you are someone who has always seen cooking as an art form and a way to express your feelings, you would definitely fall in love with this tale.
2. The Making of a Chef | Mastering heat at the culinary institute of America
by Michael Ruhlman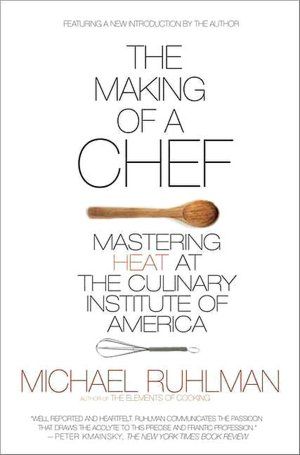 Genre- Biography
In this book, Ruhlman describes how his love affair with food began and his experiences at the Culinary Institute of America, the Ivy League of cooking schools. He pens down his entire journey of becoming a chef, the kind of people he meets along the way & the unnamable elements of great cooking. He also learns many things about the behaviour of food.
This book was nominated for a 1998 James Beard Foundation award in the Writing in the Food category.
You would relate to his experiences if you are a chef yourself and discover unique things about the making of a chef at the same time.
3. Hug your Haters: How to embrace complaints & Keep your customers happy
Genre – Business
As the name suggests, this book teaches you how to deal with all types of customer reviews of your business on social media & anywhere else.
Along with strategies for all types of businesses around the world, the book also contains examples of customers going wild with their comments & inspirational stories of companies who have managed to get the ball in their courts & win their customers' hearts despite the negative comments.
If you are looking for some good reads to learn something for your business growth, this would be a good pick for you!
4. How to Bake a Perfect Life
by Barbara O'Neal
Genre – Fiction | Contemporary Romance
This is the story of Ramona Gallagher, a professional baker, is a master of the art of baking that has sustained her through the most turbulent times.
She relies upon patience and the reliability of a good recipe during difficult times.
In this book Barbara O'Neal has explored the complex relationships between mothers and daughters—and the healing magic of homemade bread. It is a warm and beautiful story about family relationships with the art of baking in the mix.
5. Building a StoryBrand: Clarify Your Message So Customers Will Listen
by Donald Miller
Genre: Business
The author speaks about how you can connect with our customers effectively and grow your business. The book tells you how customers respond to your messages, their thought process behind making a purchase & how you can simplify your brand message for clear communication across different channels.
This book will surely transform the way you interact with your customers & add value to their lives & your business. A great read for days when the passionate restaurateur in you looks within to find ideas to uplift your business.
So that was it! We are sure that anyone of these or maybe more got you excited & curious to explore more. And hopefully reading these books will ignite your passion, instil confidence within you & teach you lessons to hold on to for a lifetime. That is the beauty of a book, it leaves you with more great things than you think.
So what are you waiting for? Stock up on your favourite ones & get started 🙂
And when you have spent time with these new friends of yours, let us know in the comments below, we will come up with more interesting ones for you 🙂