It has become a trend nowadays to post what you dined and wined on social media platforms like Facebook, Instagram and Twitter. Anyone and everyone from individuals, business owners to large brands are on social media showcasing their presence. This means that even if you are not actively maintaining a profile for your restaurant on social media, it is still being talked about. When you are engaging one-to-one with your prospective diners, you are actually creating a diner-centric brand image that is sure to drive good business in the long run.
As social media sites become the go to platform for sharing every aspect of life, marketing on the same has gained momentum. Restaurateurs are now investing substantial amounts of time, money and effort in social media marketing. In fact, many take it upon themselves to manage the social media profile of their restaurant. The big players are taking it a step further and hiring marketing professionals to look after the marketing strategy of their restaurant, including social media. Having a social media platform for your restaurant is like inviting users to visit your restaurant, take a look around and chat with your people, but virtually.
As you read on, you will be amazed by the simple yet clever ideas that you can adopt to create a compelling narrative for the marketing of your restaurant. Each case is supported by an apt example, what they are doing, why it is awesome, and in some instances where it is required, how to pull it off.
10 Social Media Marketing Ideas for Restaurants
1. Build up the hype with a BTS reel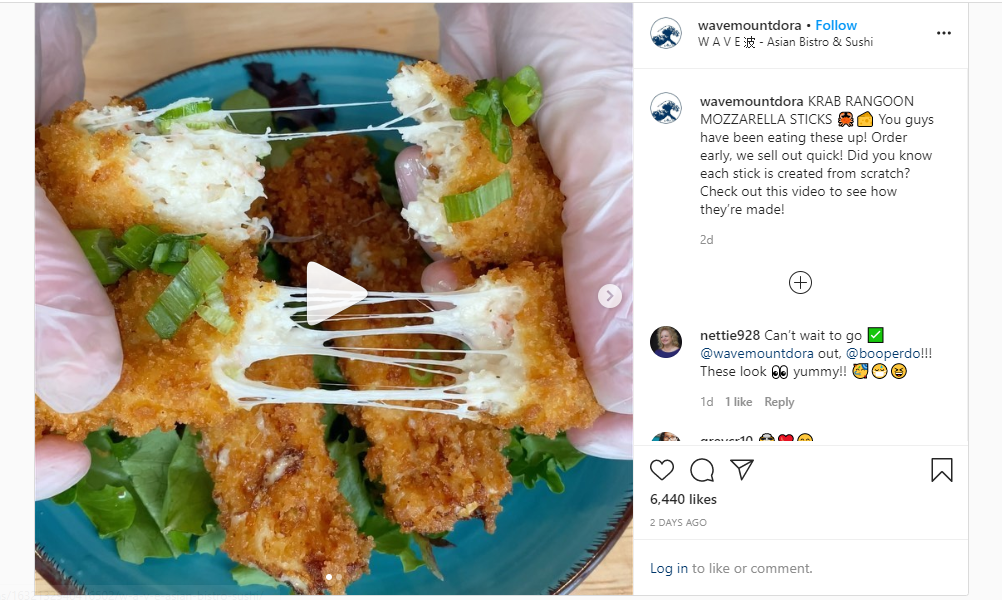 Wave Asian Bistro & Sushi in Mount Dora, FL
What are they doing? It is usual for restaurants to showcase on social media what they have prepared. But Wave has taken it a step further by showing what happens one step back – they often post behind-the-scenes photos and videos of the kitchen activities.
Why it's become awesome?
Food shows and YouTube series showcasing the procedure of food preparation in a restaurant are always trending. The shows hosted by celebrity chefs like Ranveer Brar and Vikas Khanna have millions of viewers. So by putting up BTS posts, you are cashing in on an already popular show format. Such posts intrigue guests. Thus, drawing them to your restaurant becomes an easy affair as they are already virtually familiar with the experience. In fact, you do not even have to put any extra effort as these scenes are anyway set up every day in the kitchen. All you have to do is film it aesthetically and you are good to go.
How to make it a success?
When we said aesthetic, we also meant that the kitchen must look professional, clean and organized. Choose to show your signature and most popular dishes. You either post a long clip of the entire process on suitable platforms, or you can do shorter clips, like a time-lapse video or a series of prep leading up to the finished dish. Your goal should be to highlight the credibility of your kitchen staff and their skills.
2. Tie up with a theme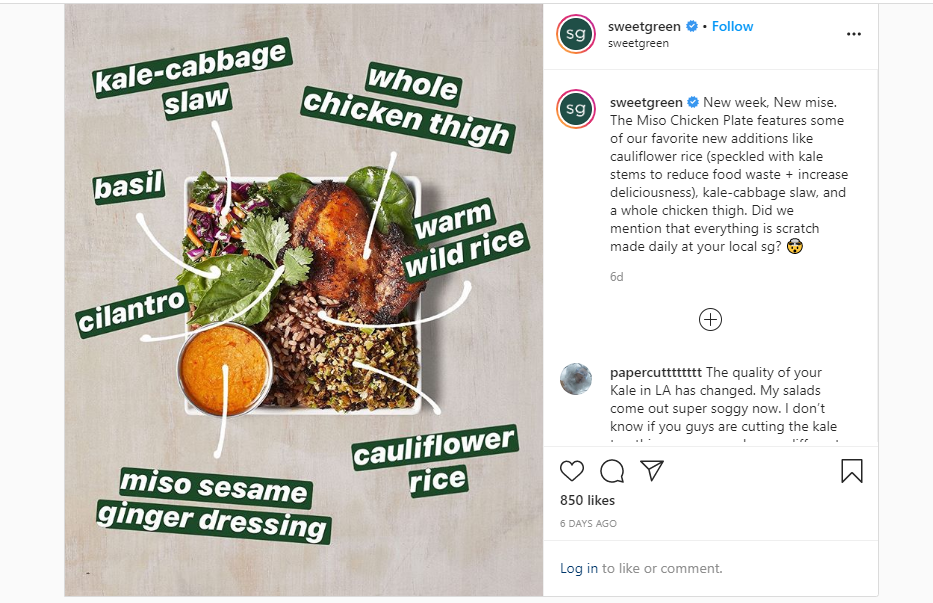 Who are they? Sweetgreen (America), national chain
What are they doing? Sweetgreen is a brand that sells fresh, sustainable food, and its theme aptly represents the idea. The aesthetic presentation of the food is truly portrayed in their stores, smartphone apps and even their social media posts. Their use of rich and bright presentation themes creates a recognizable vibe. All their quirky posts are enough to highlight their presence even without their logo.
Why it's become awesome? Sweetgreen obviously took the help of a digital marketing agency to come up with such a well-thought-out social media strategy. But even if you do not hire a marketing manager, you can use this tactic for your restaurant. Just ask yourself what the true essence of your restaurant is and use that to extend your brand identity beyond its location.
3. Set up a Strong Communication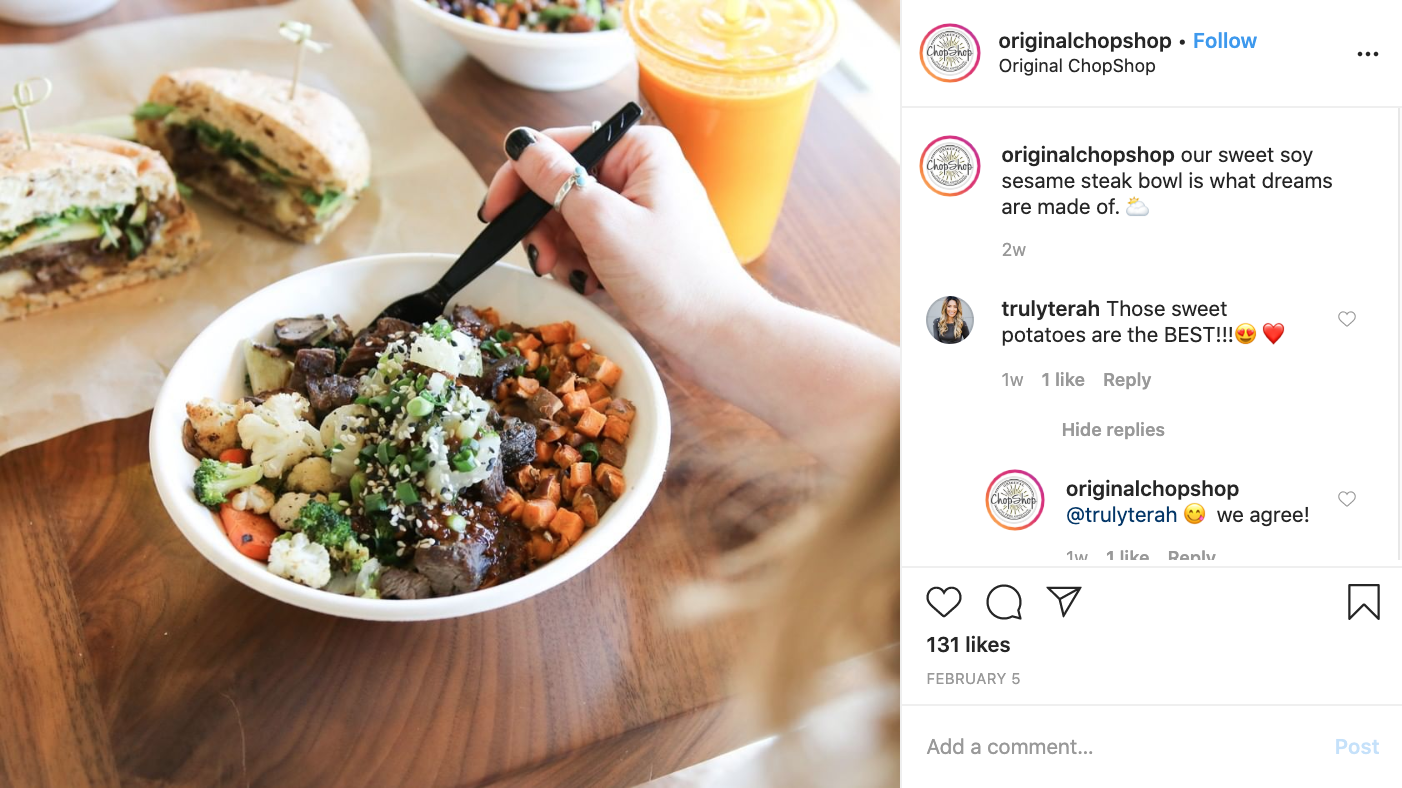 Who are they? Chop Shop, three locations in Colorado
What are they doing?
The Chop Shop people use the power of two-way communication technology to personally engage with the diners. They create a diner-friendly image by responding to each and every review on their Yelp business page. Virtually, all the reviews, good or bad, are answered with a personal reply addressing the matter of discussion.
Why it's become awesome?
Replying to reviews assures the diners that you are listening to them. Chop Shop comes off as earnestly trying to improve themselves by publicly attending to the negative comments. At the same time, by showing gratitude for the positive ones, they display utmost care for diner satisfaction. This way, they turn both the satisfied and dissatisfied diners into patrons and brand ambassadors. You can also follow their example, and at least address the aggrieved diners to bring them back.
4. Encourage signups via email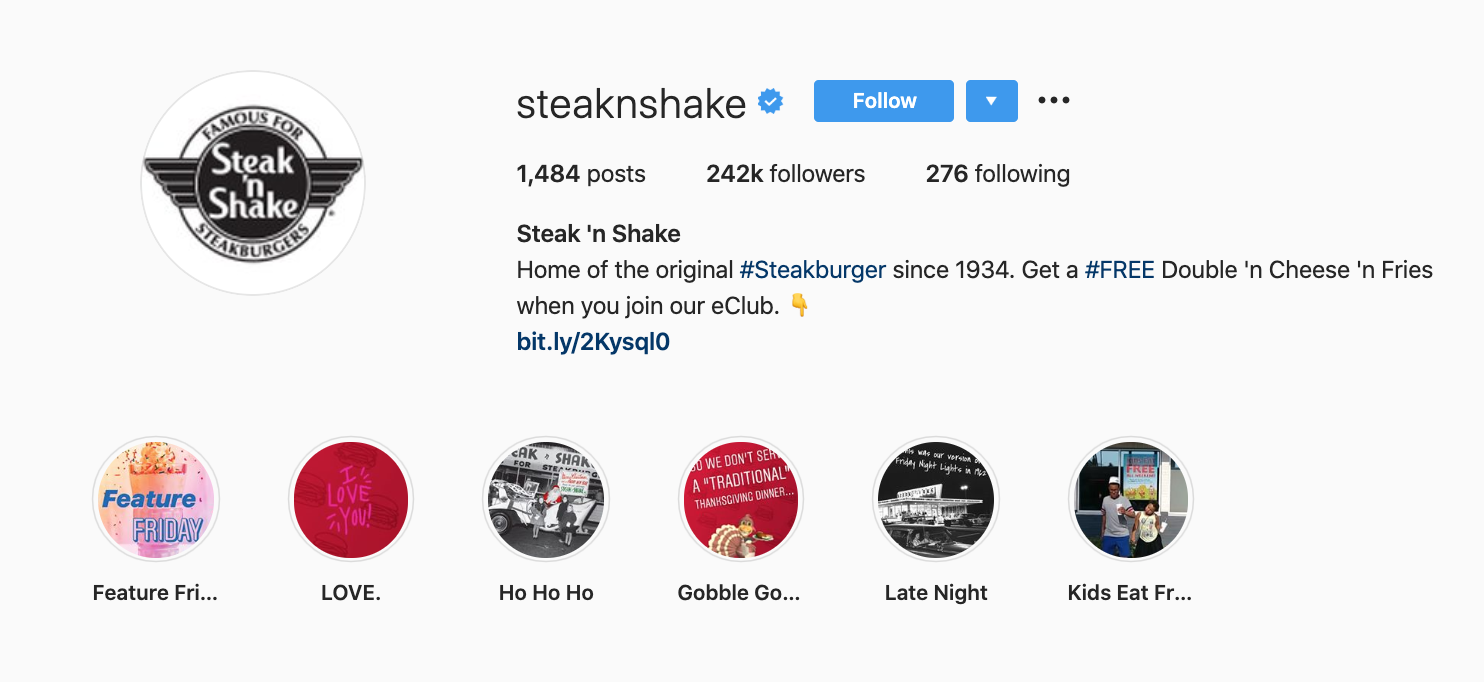 Who are they?  Steak 'n Shake (America), national chain
What are they doing?
Steak 'n Shake uses the lure of a free "Double 'n Cheese 'n Fries" to all those that sign up for their eClub. The link to their email signup is added in their bio on social media platforms so that visitors can access it while they are still in the rapture of the offer.
Why it's become awesome?
Email newsletters are the most personal access you will ever get to your diners. You can drive targeted promotions using email marketing. You can share birthday discounts, coupons, special events or any other offer this way to cater personally to their demands and urge them to return.
5. Utilize User-Generated Content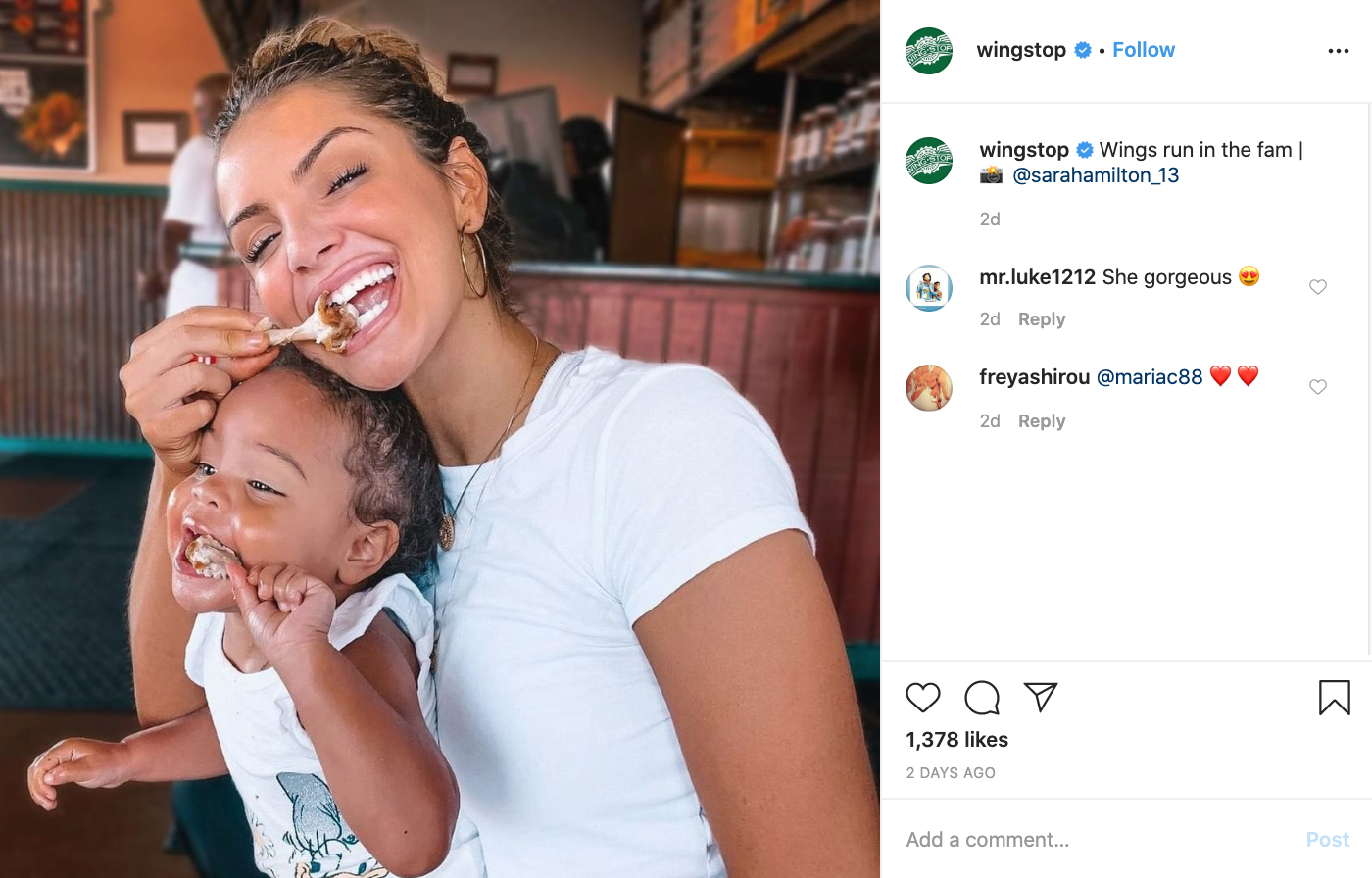 Who are they? Wingstop, national chain  
What are they doing?
User-generated content is a veritable weapon of any brand, especially restaurants. UGC can include anything from photo and text posts to any social media content made by diners to show off your brand. As a restaurant-owner, reposting UGC posts with credit lets others know how favored your brand is. Wingstop does just that, using clever graphics and memes or food images with an inset of the post.
Why it's become awesome?
UGC is a win-win situation. Your fans are performing the actual marketing work for you, and you are earning the adulation of both these loyalists as well as perspectives. When you repost UGC, you not only convince prospective diners better, since the post came from one of them, but you also maintain a relationship with the existing community in which both sides are hyping each other up.
How to make it a success?
When you re-share posts, make sure they are relevant to the theme you have already established on your social media profile, to maintain consistency. Never forget to give full credit, as this is not only in accordance with data property rules but also the whole point of UGC marketing.
6. Let your employees take the centre frame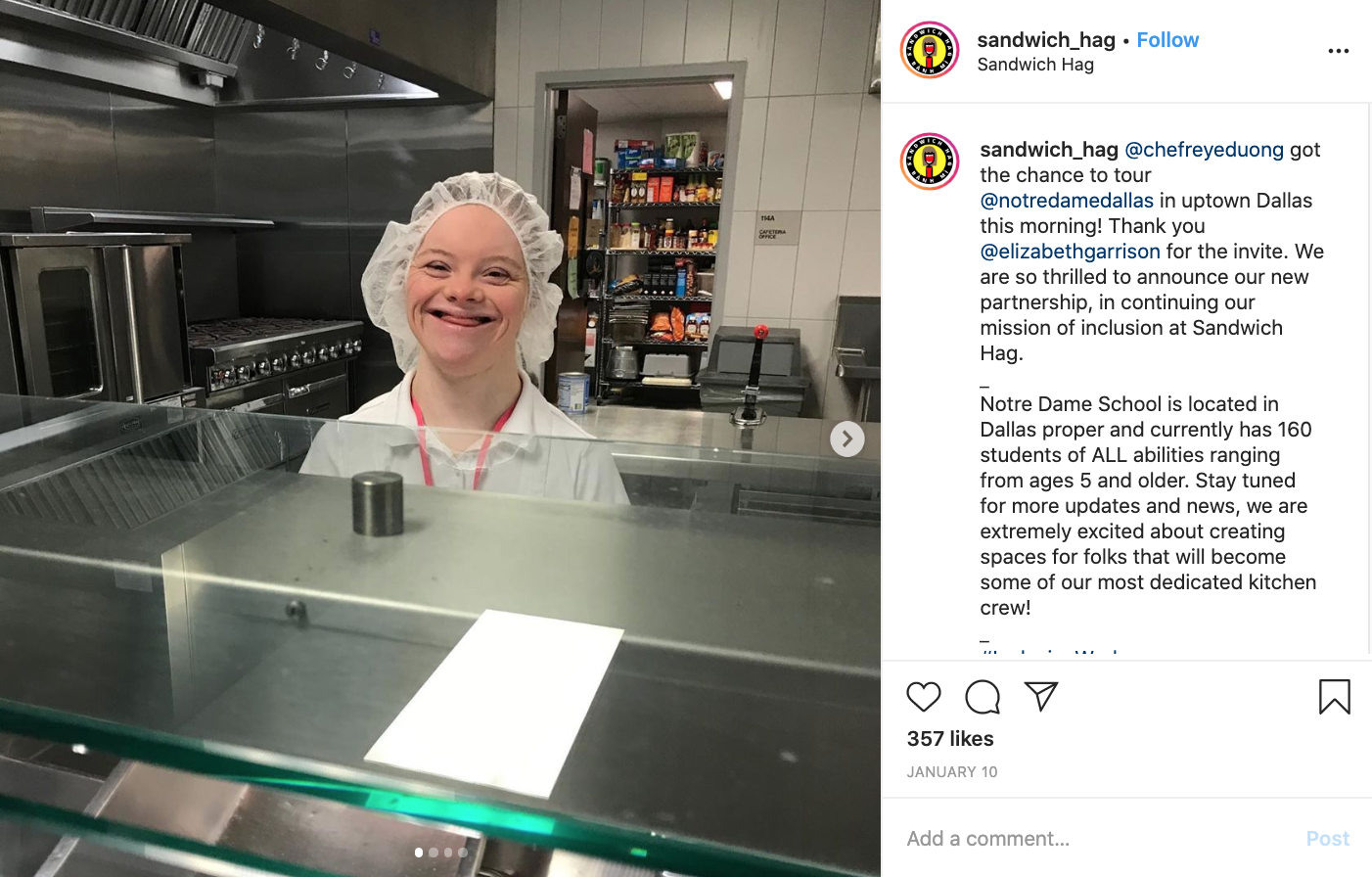 Who are they : Sandwich Hag
What are they doing?
Putting the spotlight on your employees has two important advantages. First, it assures your guests that you do take care about them deeply enough to celebrate them, and nothing unethical goes on behind the doors. Second, it creates a personal connection between you, your staff and your guests, which everyone wants. Sandwich Hag- employs a team of staff members with different abilities, including brother Sang, who has Down syndrome. Her Instagram posts are often about them and their strengths.
Why it's become awesome?
When you show off your employees as normal people with very real lives, it humanizes them to your diners. It sends a strong message that you look after them like your family. Not only that, but it also makes diner service a better experience for your staff, because guests will think twice before being harsh to them. Reyna taps into that side of her diners wonderfully when she makes a significant announcement for her restaurant. She puts forward a heart-warming reason for her decision, knowing her diners will relate to it instead of being upset.
7. Engage followers with interactive questions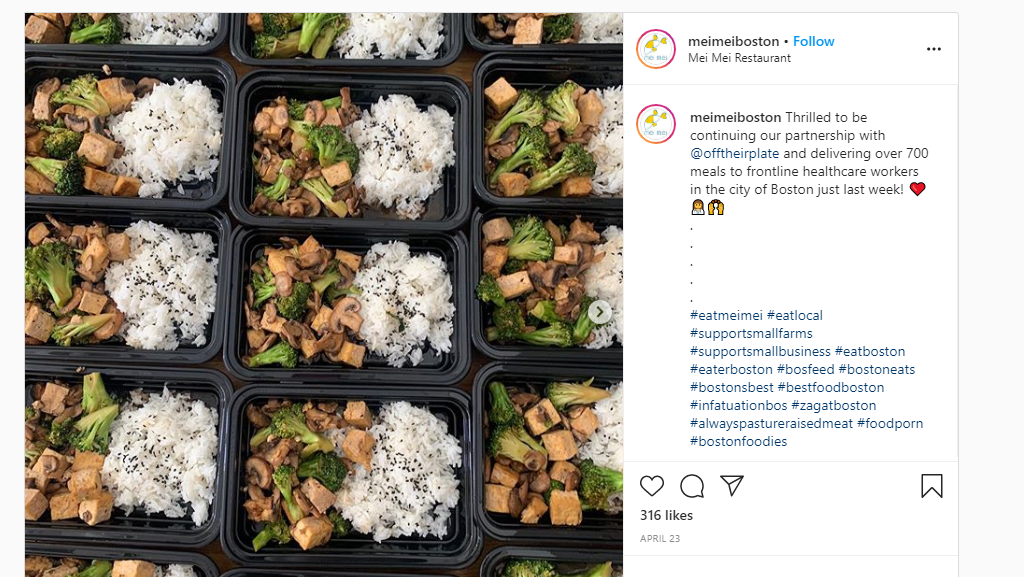 Who are they? Mei Mei 
What are they doing?
Interactive, no-obligation social media engagement has many advantages. For one, it is better at bringing prospective diners on board and intriguing them enough to warrant a visit. For two, interaction is a great way to introduce or revive something, as guests are far more certain to recall and ask for it if they had something to do with it. That is exactly what Mei Mei does right here.
Why it's become awesome?
Questions on social media have great potential that brands can tap into. You can use questions to introduce something using pre-release hype, you can ask for the opinion of your followers and you can exponentially increase the engagement time of social media users with your posts. Using questions essentially shows diners that you value their judgement, and putting them at the centre is one of the best ways to augment brand value in their minds.
8. Hop on to the trend wagon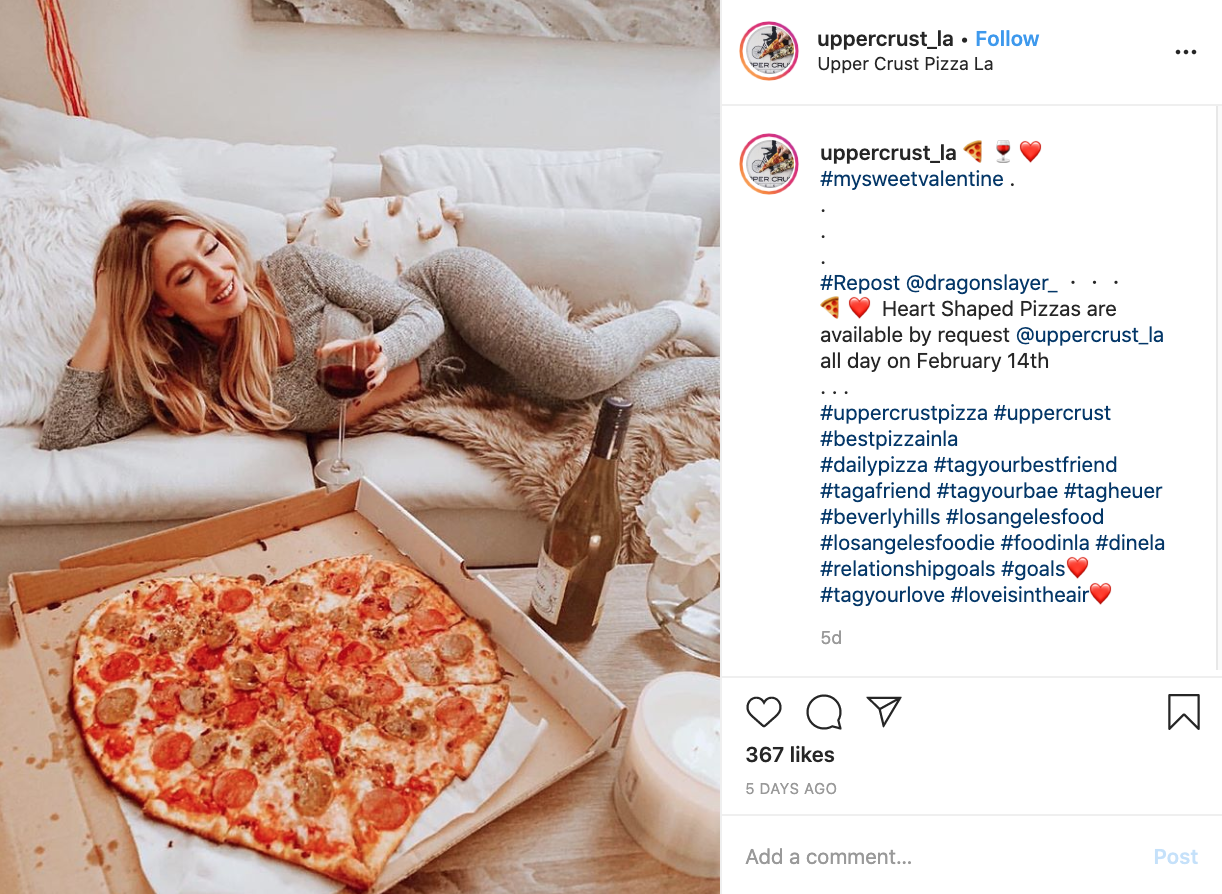 Who are they? Upper Crust Pizzeria
What are they doing?
Using trending hashtags has been one of the most infallible methods to improve visibility on social media, and Upper Crust Pizzeria does it in style. During the rampage of the Nor'wester Stella in Boston, the Upper Crust crew newsjacked the local weatherman with the hashtag #openinBOS that was trending at that time.
Why it's become awesome?
Newsjacking is a popular trick for most digital marketers. Since a huge population is already following the tag, restaurants have a great opportunity to ride on it, especially if they have a unique way to associate it with their brand. Upper Crust Pizza did just that. In fact, they hit two birds with one stone as they also highlighted their staff here, which we talked about in the sixth example.
9. Contests aka the endorphin of diners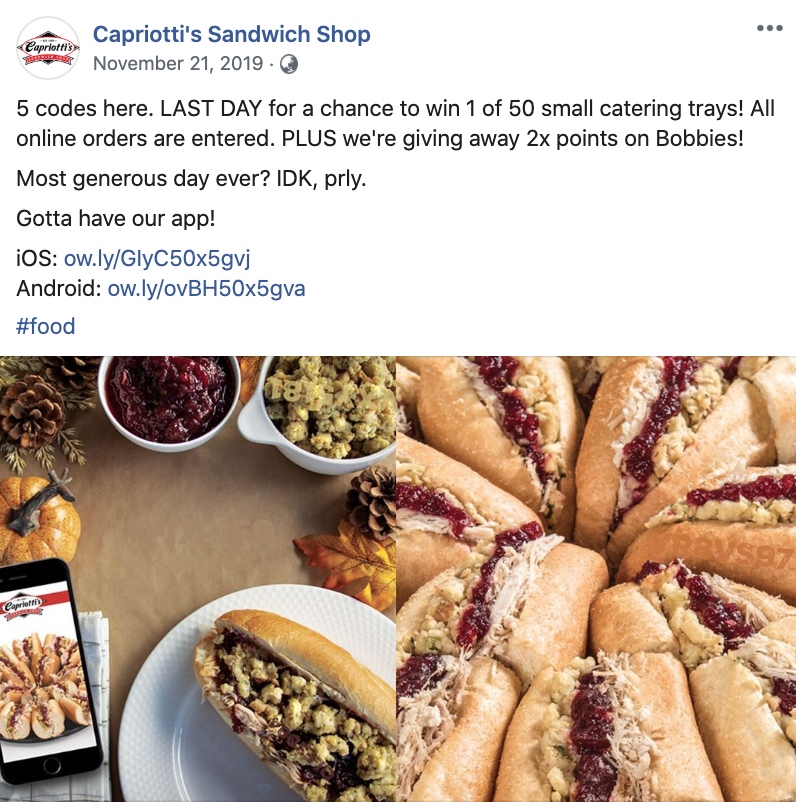 Who are they? Capriotti's Sandwich Shop in Las Vegas, NV
What are they doing?
Who doesn't like complimentary free stuff? Capriotti's knew what they were doing when they partnered to run a contest for their catering trays. Participants just had to order online to enter the contest!
Why it's become awesome?
There is no end to the clever ways you can host a contest. Some common ideas are riddles, fun trivia questions, photo contests, fill-in-the-blanks, caption contests and tagging friends. This method is a fast one to generate buzz and expand your online as well as your offline community.
10. Highlight your Vendors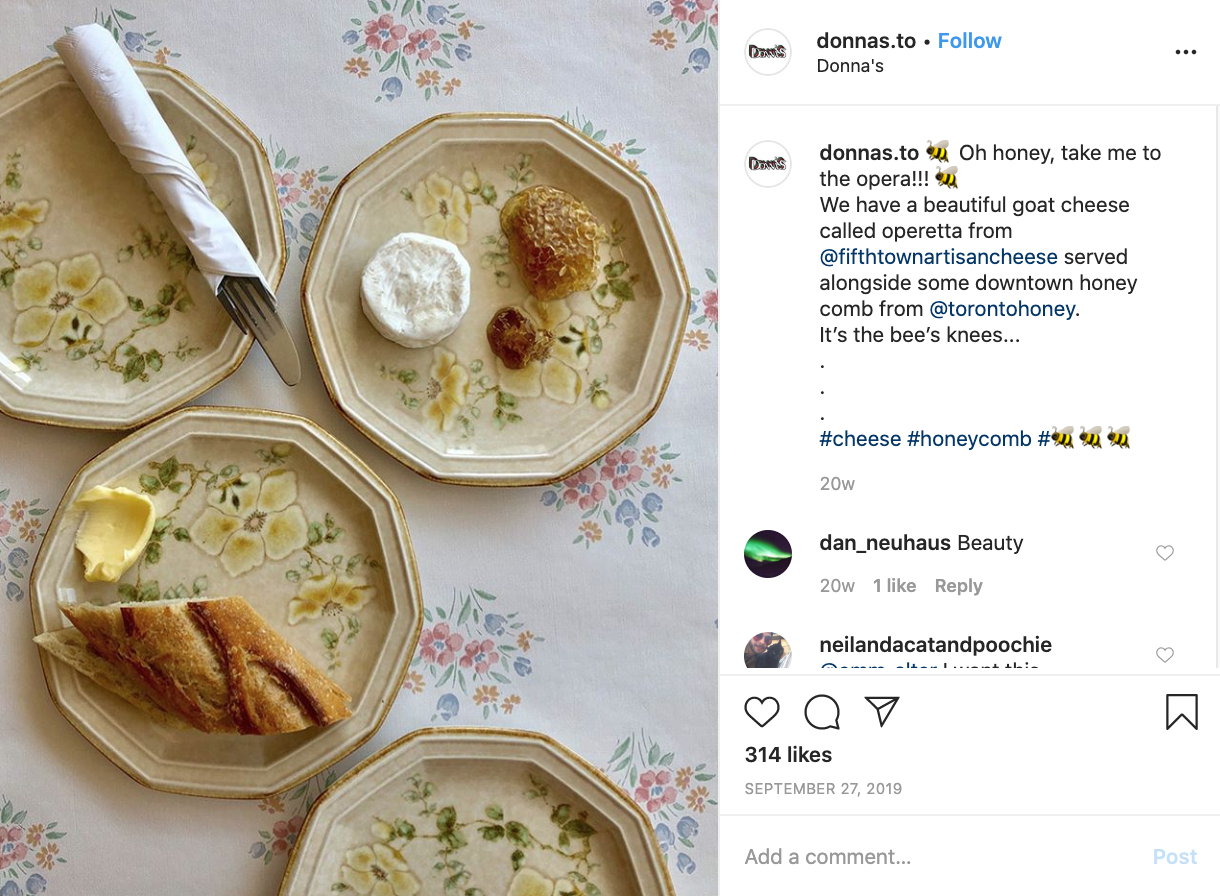 Who are they? Donna's Toronto in Toronto, Canada
What are they doing?
Just as showing off your staff created a personal connection with your guests, putting the spotlight on your vendors does the same. It assures them that you are using the best quality products to cook your meals. It also promotes the two brands together and helps send patrons of one to the other. Donna's post is a great example, in which they mention Harbord St Bakery, a local bakery, as the source of the bread for their Reuben sandwich. Returning the favor, Harbord St Bakery also posted about their association with Donna's for their special.
Why it's become awesome?
This method is the epitome of symbiosis. Both companies rub each others' back by letting their diners know of their support of each other. This way, diners that trust one brand will also try out the other, and partners of one may be interested to work with the other. Additionally, there is a trend nowadays where diners want to know exactly what goes into what they eat, and this is a great way to let them know.
The restaurant business is highly centred around diners. In a day and age where people are giving maximum support to brands that personally engage their clients, restaurants have an even greater responsibility to propagate their diner-friendly image. Social media sites are the optimum platforms for this. These innovative ideas of some restaurants for managing their social media profiles will surely inspire you in your quest for a unique social media marketing strategy for your restaurant.