The only thing constant is the change
The food & Beverage industry has changed manifolds in the last few years. Online food ordering and delivery is one such revolution that has now become an integral part of our lives. The food delivery service has proven to be a boon to mankind, and with the on-going pandemic, their popularity has only amplified.
As per Statista, the revenue of the online food delivery market is expected to witness an annual growth rate of 7.5% (CAGR 2020-2024) annually with a projected market volume of US$182,327 million by 2024. These figures are an indicator of a swelling industry where no food delivery player wants to be left behind.
To withstand the competition and to keep up with evolving customer needs, food delivery startups must embrace the on-going trends and technological innovations in the industry.
1. Take your Restaurant on Cloud-9: Rise of Cloud Kitchens

Cloud kitchens are the best way to reduce overhead costs with no retail footprint. This is the perfect time when restaurants should look at this model. Besides, there are now platforms that provide end-to-end solutions for restaurants to open delivery-only kitchens by providing the required infrastructure and software with minimal capital expenditure. These service providers can house multiple kitchens operating within their infrastructure. Swiggy Access is one such example in India and Kitopi in the middle east, UK and USA.
2. Smart POS for Smarter Management

Traditional POS systems have failed to handle the complexities of modern food delivery requirements, often leading to errors. With a new-age and smart POS systems, restaurants can manage all front & back-end functions from one dashboard. To keep up with the current scenario, a new-age POS like inresto's Mobile POS (link to google form) can also record the temperature and mask checks of the delivery executive.
3. Big Data Analytics for a Bigger Tomorrow
Like any other industry, Big Data analytics plays a very important part in the functionality of the food delivery service providers. It helps in collecting real-time data, leading to accurate estimation of delivery while eliminating the possibility of food wastage and damage. Restaurants can also analyze the customer sentiments on social media, which in turn can help them to improve their operational efficiency.
4. By Hook or By Crook: Multiple Delivery Channels

With the rise in demand for home delivery services, restaurants need to explore the multiple delivery channels and not just restrict to one. The third-party delivery service providers are already facilitating the job with their strong technology and wide reach. But, it is equally important to have an own-delivery system in place to avoid total reliability on these channels and limit the order related issues.
5. Future of Ordering: Going beyond Apps and Websites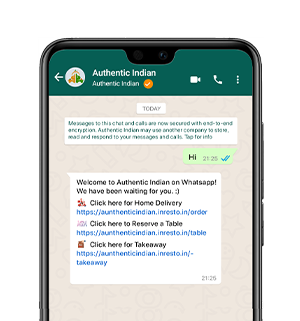 Technology is constantly evolving, and there are already new avenues where customers can order from beyond existing channels. inresto's latest partnership with WhatsApp now enables restaurants to take orders directly through an AI-powered conversation which is simple and secure.
The future of ordering can also be witnessed in western countries through virtual assistants, smartwatches, smart TVs, and even smart cars. For example,- Grubhub, which is an American food delivery giant, allows its customers to reorder from the last three purchases on its platform through Alexa (Amazon's Virtual Assistant).
With the ever-growing competition, restaurants should be able to deliver food cheaper, faster and with a better experience. It is a growing industry with room for new technological trends that restaurants must embrace to enhance their delivery experience. With the above-listed trends, food delivery startups can easily keep up with the industry and be prepared for the future.